Wines of Domaine Saladin
Elisabeth and Marie-Laurence create a range of 'terroir' wines, reflecting the diversity of the soils in Saint-Marcel d'Ardèche, the 13 Mediterranean varietals of the Domain and their own inspiration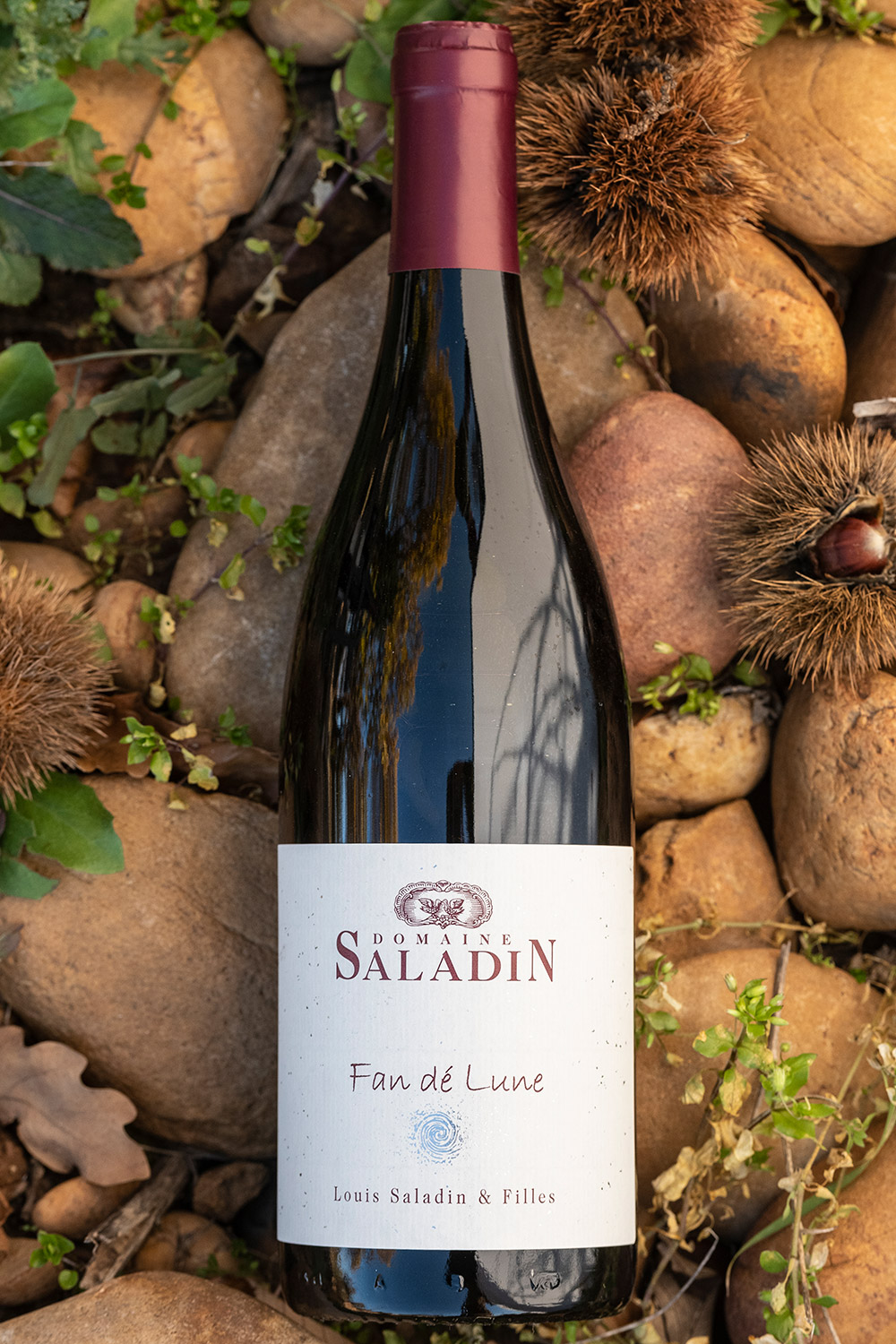 Fan dé Lune
"Fan de Lune" means 'child of the moon' in local patois and is used to express surprise. The wine was named in remembrance of two surprises experienced by the family in the late 1970's; the new appellation of the Côtes du Rhône Villages 'terroirs' in St Marcel d' Ardèche and the birth of girls, Marie-Laurence and Elisabeth!

VARIETALS : Mostly Mourvedre, rounded with Grenache Noir and Syrah.

TERROIR : 'Villafranchiennes' terraces amongst oak and chestnut trees, blessed with high mineral deposits from the Rhône. Soil is made up of 'galets roulés' (large, rounded pebbles) and the roots reach very deep. Exposure is south to south-east on the hillsides. The vines are 40 years old. Yield is 30 hectolitres per hectare.

HARVEST : Grapes are handpicked and the selection is very thorough – right on the vine.

VINIFICATION : The winemakers play with the particularities found in the combination of varietals, soils and plots and add nothing to nature but for a tiny touch of sulphite. Vinification varies depending upon berries and must (unfermented juice): Mourvedre requires a late harvest; Grenache, semi-carbonic maceration; and Syrah, long fermentation (33 days)…

AGING : Aging is carried out in oak 'foudres' (large barrels) for 9 months.

CULTURE : As for all our other cuvées: no pesticide, no herbicide, no insecticide – our estate has always been chemical free. Vinified using only indigenous yeasts, as has always been the case at the domain. "Agriculture Biologique" (organic) certified by "Ecocert."
Consult technical sheet